ABBs Offers the Best Brazilian Wax in Miami
Every woman who gets our Brazilian wax Miami service knows that they are in the hands of well qualified professionals. We have perfected our techniques to make them as quick and painless as possible, and perform even this delicate hair removal service without irritating the skin. The woman who founded ABBS salon is indeed Brazilian, and brought to Miami her own perfected wax and techniques for the famous Brazilian wax Miami service. Each technician who works in our salon is trained and licensed in house to ensure that the service is perfect in every way.
We are repeatedly voted as the best wax spa Miami has to offer, due to our excellent service and impeccable attention to detail. The wax we use is a unique blend of beeswax and aloe vera. These two ingredients produce a perfcet wax that is easy on the skin, and soft enough for the hair removal expert to easily manipulate. This ensures a very thorough and smooth depilation, and reveals your silky smooth skin.
Professional Brazilian Hair Removal Services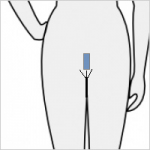 Get the perfect Brazilian bikini. The moment you enter our salon you will receive the most professional care and attention. The hair removal services, including our Brazilian wax Miami, are delivered in a relaxed atmosphere. Our attention to hygiene is second only to the attention we bestow on our clients. And, we are continually staying on the cutting edge of hair removal and depilatory techniques, so that we can always offer the best.
Our salon uses only the highest quality products and disposable materials. Every item we use is required to pass a strict quality control, so that we can always know we are offering our clients the very best waxing in Miami. We offer our salon services with confidence.